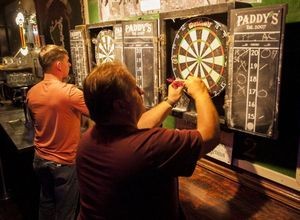 Cunts who "can't chalk" a game of darts in a pub really piss me off.
It's not that they have an allergy to chalk, they're just too fucking lazy or ignorant to do some really basic arithmetic – you know, add up 3 1 or 2-digit numbers in your head and subtract the total from another number thats already in front of you. It's hardly fucking rocket science, although if they buy a drink and get the wrong change they immediately turn into mathematical geniuses.
They see a game on and in true Yosser Hughes fashion think "I can do that – gizza game".
Have they got their own darts – have they fuck, they'll "borrow yours", like fuck they will.
And when you go out of your way to accommodate them, e.g. sort them out a set of pub darts and say that you'll tell them the scores and remainders to write down, they bounce around by the chalking board like fucking Zebedee or a nodding donkey or yammering in your fucking ear when you're throwing.
I'm not a fucking social worker; I don't go to the pub to teach remedial arithmetic or darting etiquette. It's got to the point where I just fuck off to another pub and they can have the board to themselves.
Nominated by: Frottom