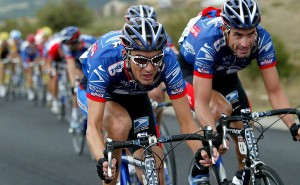 How to become a professional racing cyclist sportsman in just 7 days, and earn £1 million per year, for just a £100 investment.
1) Buy a second hand racing bike from ebay (must have at least 10 gears). Can easily find a suitable one for minimum £70 including delivery charges.
2) Buy a plastic head-guard cycle helmet from toys are us. Cost about £5
3) Buy a pair of pooftah-gay lycra shorts and a plain coloured sweat-shirt from George at Asda. Total cost about £20
4) To stick onto your new sweat-shirt, buy a load of iron-on corporate-logo stickers from WH Smith. (Sky, Virgin or Coka-Cola ones are best). Cost: about £5
5) Become a racing cyclist amateur by joining any council-taxpayer sponsored rainbow-cycling sport club. Cost: free
6) Open an online twitter and facebook account and blog attention-seeking stuff (photos and You Tube videos of yourself} about your new sporty cycle-racing hobby.
7) If you're the right looking cunt, the mainstream media sports hacks will notice you within a week. You will get sponsorship to be a professional cycle-racer, and race in the next Tour de France.
Nominated by: Entopy