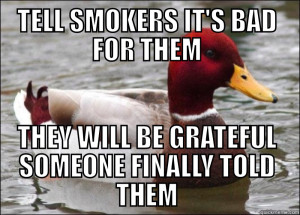 Non smokers are joyless, self-righteous cunts.
During the winter, thanks to our stupid anti-smoking laws, I have to stand outside in the snow and pissing rain to pursue my favourite pastime.
As soon as the weather improves, these cunts are in the beer garden with their spoilt, screaming brats and they assume they have some kind of right to complain as soon as I light up.Well, they can all fuck off because they're cunts.
As soon as they can shut up their ill-mannered, selfish, noisy cunt offspring, I'll put my ciggie out, but until then, they can fuck off and find somebody who might give a flying fuck about what they think. Cunts
Nominated by: little lord cuntleroy