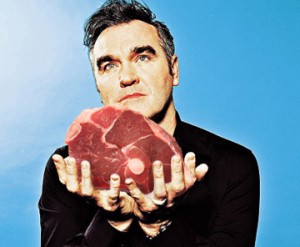 Morrissey is a clueless dumb cunt who worships PETA whose track record is pretty fucking shady to say the least.
To begin with the fact that they endorse celebrities who wear shit loads of fur all the while telling people don't kill animals or eat them. You know just eat salad and nuts for the rest of your bloody fucking life and that Ingrid Newkirk is a real fucking cunt I'd like to slap the shit out that ugly slag cunt she's responsible for this whole mess.
Also PETA has killed 78% of the animals they rescued in 2013 btw there is no money rescuing animals zip zero none hence why they kill so many. Morrissey just die you has been cunt or at least realize your a dumb stuck up douchebag who can't write a decent song anymore.
I'm off to eat some hailal bacon
Nominated by: Titslapper