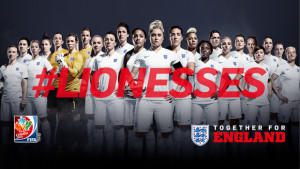 These cunts who think third place is something to shout about? That's why no England team of this generation will ever win a tournament… Third place is success? Fuck me…
The BBC (naturally) lap it up…. They will probably make the tuppence flickers XI BBC Sports Personality team of the year….
So the "Lionesses" finished third and then celebrated… They actually partied after a failure…. One can imagine the scene: pissed on cider, WKD and sambuca, squawking 'I Will Survive' and 'Angels (by that Robbie cunt)' while stood on the tables and then crying in the bogs about an own goal….
And if that bald cunt, Prince Willam gushes about the Lionesses once more, someone should put him in a cage with one that hasn't been fed for a week…
Nominated by: Norman