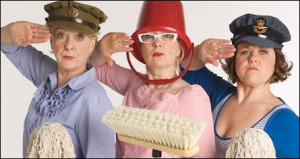 Who fucking decided Women should be allowed out of the kitchen?
And who the fuck thought that Women could do 'comedy'?
They are all the fucking same, unfunny misandrists who all base their routines of that fat old pig Jo Brand, Sara Pascoe, Roisin Conaty, Jenny Eclair, Ronni Ancona, Andi Osho, & of course Sarah Millican
Not a funny witticism, joke or even mildly amusing anecdote from any of them.
If I was Jo Brand I would sue Sarah Millican for plagiarism!
Millican is the Peter Kay of the comedy scene, the same 3 jokes & routine for the last 15 years and they have the cheek to release the same DVD every year but the Plebs go buy it like fucking sheep!
Nominated by: Comedy Dave