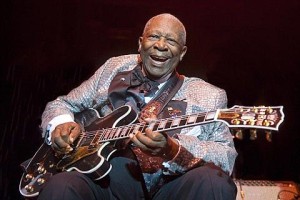 * * * * WE HAVE A WINNER! * * * *
Congratulations to Lez who correctly predicted that blues guitar legend, BB King, would be the next dead dude! Here's a comment from
ChasC
:
"BB King was a blues legend. Born of the big band era, I was never a great fan of his music but his playing style managed to capture emotion with just the right economy of notes. He never felt the need to show off or fill gaps with unnecessary playing. He inspired Clapton and through him me. The many that have tried to follow him just make you realise how good he really was!"
Well done, Lez. Another fresh face on the winners' podium.
So the slate has been wiped clean and everyone gets to pick a new 'dead cunt walking' as we move on to The Dead Pool 19.
Here's the rules :
1. Nominate who you think is next on the way out.
You can have a maximum of five cunts each. Leave names in the Comments.
2. You win if your Cunt dies first.
Then the slate is wiped clean and we start again. Of course, you can always be a cunt and steal someone else's dead cunt candidate from the last Dead Pool.
Any cunt who tries to cheat by nominating the World's Oldest Man or Woman is a cunt and will be ignored. Any anonymous cunt who can't be bothered to make up a name for themselves will also be ignored. Oh, and the usual "Our Blog Our Rules" thing applies.