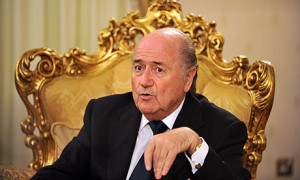 Sepp Blatter is the most arrogant cunt in the world. Who the fuck does he think he is? Louis XIV? The emperor of fucking football?
Apparently European clubs provided 75% of the players at the last World Cup. Why don't they simply refuse permission for their employees to play in this corrupt reptile's shitty competition? Better yet, UEFA should simply leave FIFA and start their own competition – the World Trophy perhaps. Like to see those FIFA cunts' faces when they realise that the flow of European money that pays for their 5-star, first class lifestyles has been cut off. Fucking bastards.
Pity that cunt Jihadi John didn't meet Blatter in the Middle East. Christ, I fucking hate that utter, utter cunt.
Nominated by: Cunt's Mate Cunt