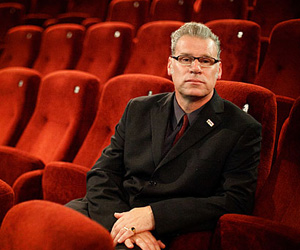 Film critic Mark Kermode is a pretentious, vain, loudmouthed, turd-gurgler of the highest order. Not only is he ubiquitous in print and on TV he actually does tours where he gets up on stage where an audience of mouth-breathing media studies undergrads get their undies all cummy.
Opinions are like assholes, certainly, but it takes a special sort of cunt to believe that his own opinions are so penetrating and vital that everyone else should adopt them in place of their own and that he be paid for it.
By courting the tarnished trappings of multi-media celebrity Kermode has deluded himself into thinking that he also is a real part of the film industry, just like the actors and directors and myriad other people who, you know, actually make films. He's a mediocrity hanging off the cock of real film professionals who actually have the courage to stand up and make something and put it out there for people to see. Kermode is an intellectual coward who, like all critics, apes the linguistic exactitude of science whilst avoiding all of its rigour.
It's easy to be regularly rude about Michael Bay because Michael Bay might very well make shit films but he's a Hollywood big-shot and wouldn't know Mark Kermode from a piss droplet on the floor of his mansion's 11th bathroom.
Kermode's wife is a Professor of film criticism at some uprated polytechnic meaning she's another pretentious, dull-witted gobshite who wouldn't know one end of an Arriflex from the other.
And to top it off he's chosen to look like a fat, speccy Morrissey. That makes him twice a cunt.
Nominated by: John Milius' Gun Cabinet