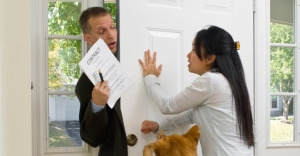 Parasite shite hair cunt commission based outfits that cold call on pensioners and benefits inbreeds flogging "eco" boilers or thermal roof panels or insulation or new roofs or new driveways ect ect at one time only special discount prices with – you've guessed it – "free fitting".
What a bunch of cunts.
Nominated by: Sir Limply Stoke

Used car salesman are cunts too. Fell on hard times a few years ago and traded my car in for "quality used car ?" Turned out it was fucking death trap. Cost me a fucking fortune in the long run. Cunts the fucking lot of them !
Nominated by: Cuntface

Door to door salesen? Should set the dogs on the scum. I had an issue with a salesman from well known double glazing company. Could not get rid of him, he tried every trick in the book except offer his arse to secure the deal and I'll bet he'd have done that if I hadn't managed to push him out of the door.
Nominated by: Captain Japseye