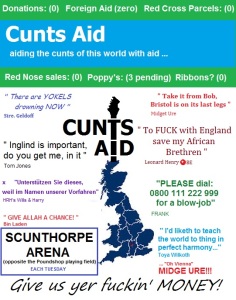 Band Aid 30 is a total cuntfest.
The intentions of the 1984 original may have been well meant (even though the song was shite!). But then there was the horrendous Stock/Aitken/Waterman version in 1989.
Then there was Band Aid 20 with a load of cunts, and now that scruffy, hypocritical tramp, Geldof wants to make Band Aid 30 – which means rehashing that awful song (like a bad version of the Z-Cars theme) with twats like Ed Sheeran, Coldplay and the smear of shit on the buttocks of popular music that is One Direction.
You can also bet your life that that enormous bellend, Simon Cowell will get involved.
Nominated by: Norman

"…do they know it's Christmas time at all?…"
Don't be a cunt! Of course they don't – they're muslims…!
Nominated by: Dioclese