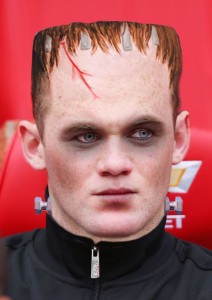 Wayne Rooney is a prize cunt.
I have been a Stretford Ender man and boy for over 35 years. But I loathe this syrup wearing, whoremongering, moneygrabbing, skiving scouse twat.
The fact that this bellend is United captain: following greats like Robson, Buchan, Bruce, Law, Cantona, Charlton etc makes we want to puke…
With our back four (three? Whatever) already fucked this scouse bastard decides to kick some Hammers player in the knackers and gets a three game ban. He is just a cunt who is there for the money and he is a fucking liability.
Nominated by: Norman