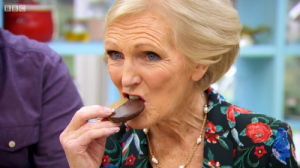 Mary Berry is annoying, flakey skinned, botox ridden, mutton dressed as lamb. She thinks the world owes her adorance because she can bake a fucking cake, thinking she is everyone's Nan.
Real Nans cook the fuck out of cakes, and get joy only giving them to those brave enough to try them. And thats what she should fuck off and do.
So you can BAKE, great, now fuck off and do it off my TV you cunt.
Nominated by: King Cunt
( and that Paul Hollywood's a right cunt too!..)