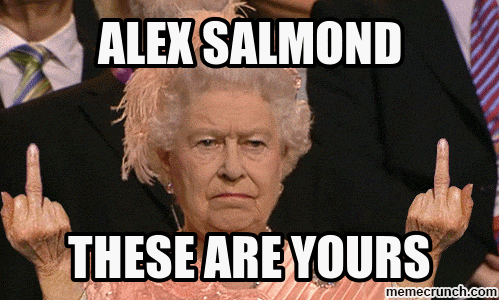 Alex Salmond has fallen. It is customary for the political classes to come together to heap paens of praise upon their fellows whom they despise the most when they have come a cropper. Such a moment has again come in British political life. It is now Salmond's turn to drink from that insincere and poisoned chalice as our leaders deliver their eulogeous obituaries. As a student orf history and as one who has lived through many such events in a blessedly long and cuntakerous life, may I add a few thoughts in honour orf the man.
Salmond, you fuck faced bulging eyed tosser, you have made it your living to dredge up every last racist prejudice from the sullen constituency orf resentful retards that you represent. Over the years you have pandered to their failure and like some jocko Hitler, have nurtured their festering inadequacy into a howling mob and unleashed it upon the English. You promised them a tartan paradise and like so many shite arsed jocko warlords before you have led them to ignominious defeat. Welcome to your Culloden you cunt.
On occasion you have a certain celtic fluidity with the English language and in the ears of your followers, the facility to turn shite into gold. Only problem is old sport that under the penetrating eye orf the television camera the ready smile and the generous bonhomie that you effect when it suits you is revealed to be as fake as fuck and merely the well worn artifice orf a professional politician. In faith, you come acrorss as a smug cunt. Like any true Scotsman you are the first to take English gold and all the trappings that come with your grace and favour lifestyle.
Worth noting that the cunt has been on the left wing trot and awkward squad wing orf the SNP and a long time devotee orf the socialist/republican cadre within it, hence Her Majesty's dismay at any hint orf referendum success. Much has been made orf the cunt's childless marriage to a woman 17 years his senior and I make no comments over claims orf impotence but I merely observe that that wobbly gut on the cunt coupled with a small cock makes for a simple natural method orf birth control.
Nominated by: Sir Limply Stoke