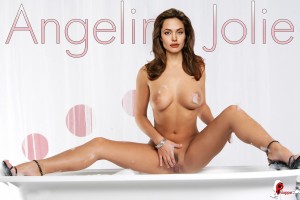 Angelina Jolie is a cunt… Made a dame? For what? Being a Hollywood tosspot? Dropping her knickers every five minutes? Doing crap films? Wrecking homes and marriages? Pathalogical shagging? Buttering up that bald Tory knobend, Willam Hague?
The last one, methinks….
Anyone who works with this wretched Tory government is a cunt anyway, but in the honours list after five minutes? Not only that, also getting a better honour than that Sutton lad: who raised all that money for cancer research, and who is sadly no longer with us? Jolie gets more recognition than young Sutton? What a backscratching, celebrity lickarse shitheap the UK has become… And what a Tinsletown twateratti, knickerless Yank cunt!
That Brad Pitt is a twat as well…
Nominated by: Norman Whiteside