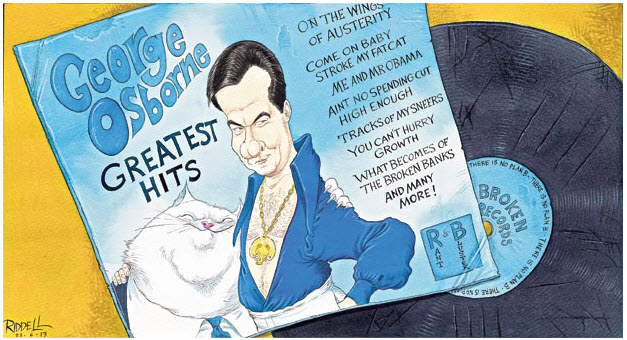 George Osborne, an idiot cunt that can't even do kindergarten arithmetic. He says the UK is growing economically and well on the way to recovery.
Just do the simple numbers:
GDP growth for fiscal year 2013 – 2014 (1 April 2014 to 31 March 2014 ) is 1.9%
Government borrowing for fiscal year 2013 – 2014 £107.7 billion
UK GDP for fiscal year 2013 – 2014 is said to be £2.5 trillion
Therefore borrowing = 4.3% of GDP (107.7 / 2,500)
If you borrow £10 you are not £10 better off – you have to pay the £10 back + interest (so you are £12.50 worse off).
Simple arithmetic shows that the UK economy shrank by 2.4% in the fiscal year 2013 – 2014 (borrowing of4.3% – growth of 1.9%). Borrowed money in not wealth. It has to be paid back. But the dirty evil pedophiles, sodomites, rapists and evil tax evading thieves in parliament, will never pay a penny of the debt they create. The national debt is loaded onto the poor.
More lies from the cunt George Osborne.
Inflation for most ordinary people is now 10%+ (just look at the price of a loaf or a sausage). GDP is a fucking lie (it incorporates the multiple recycling of money thieved from the poor by the dirty evil pedophiles and sodomites in parliament), and incorporates the housing bubble – whereby the criminals of the world use UK property (especially London) for money laundering and hiding wealth (obtained by criminal means).
George Osborne is dirty evil worthless idiot cunt. All the cunt does is thieve from the poor to give to the rich.
Nominated by: MPs are pedophiles and sodomites
( In the interests of political balance, it should be pointed out that Gordon Brown and Ed Balls can't fucking add up either! Ed. )