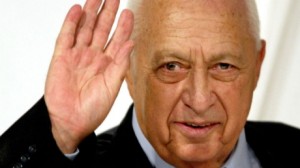 * * * * WE HAVE A WINNER! * * * *
Congratulations to our illustrious web master, The All Seeing Eye, who correctly guessed the next cunt to kick the cunting bucket … therefore becoming a dead cunt … would be Ariel Sharon. It was a long wait – 8 years in a bloody coma (Sharon not the Eye).
Here's a picture of the dead cunt waving us a cheery bye-bye and thanks for all the fish. Let's hope that the funeral gets less coverage than that other dead cunt, Mandela.
So the slate has been wiped clean and everyone gets to pick a new 'dead cunt walking' as we move on to The Dead Pool 8. Here's the rules :
1. Nominate who you think is next on the way out.
You can have a maximum of three cunts each. Leave names in the Comments.
2. You win if your Cunt dies first.
Then the slate is wiped clean and we start again. Of course, you can always be a cunt and steal someone else's dead cunt candidate from the last Dead Pool.
Any cunt who tries to cheat by nominating the World's Oldest Man or Woman is a cunt and will be ignored. The winner gets a dedicated Dead Pool Champion guest post on the subject of his/her choice and kudos of cuntishness aplenty. Oh, and the usual "Our Blog Our Rules" thing applies.