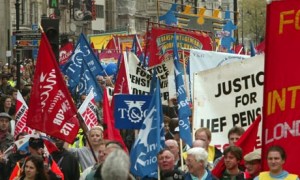 Bugger me butler. Back in the seventies again driving me mustard yellow Maxi without a seat belt. Suddenly up pop the old commie cunt undead. Old commie cunts never die – they just smell that way. The Unite Stalinist stooges twitch in to life again to march to another epic fuckup. Grangemouth. You taste death just by saying it, like Paschendale or Stalingrad.
Whilst in the depths classic commie corruption knots and genders. These cunts spend their lives cheating, lieing and conniving in solidarity with the working class while covertly promoting their own expenses, pensions, wives and boyfriends at the expense of the poor punters that pay their dues.
So what about Unite, the union that has released this Cold War virus?
Led by Red Len McCuntsky of Liverpool Militant Tendency fame. Used its block vote to elect Ed Minicunt for the grateful sons of toil. Embroiled in vote rigging allegations in favour of McCuntsky's close friend Carrie Murphy over the parliamentary seat of Falkirk near Grangemouth. In the mix a cunt name of Jimmy Dean (thought he died in a car crash in Hollywood). This Rebel Without a Cock was head union apparatchic at the Grangemouth plant (resigned) and is chairman of Falkirk Labour Party. Sweetness and light.
Corrupt commie cunts.
Nominated by : Sir Limply Stoke