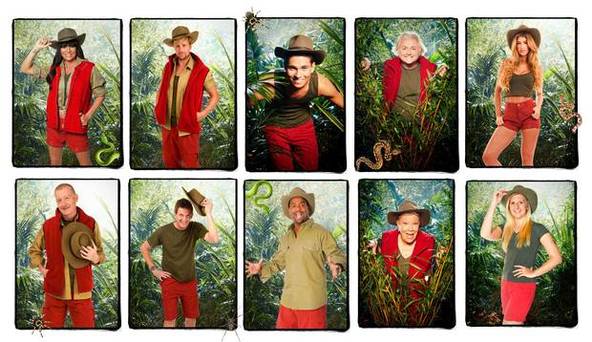 FFS! 13 fucking series of this mind numbing shite and it's still going! I give you "I'm a non-entity – get the fuck outta here!"
Rebeccan Addlington, Olympic swimming cunt; Steve Davis, has been snooker cunt; Kian Egan, has been Westlife singer cunt; David Emmanuel, Princess Di's dress designing cunt; Joey Essex, who the fuck is this cunt? cunt; Annabel Giles, little known TV presenter cunt; Mo Harris, fat twat Eastenders cunt – what the fuck is her real name anyway?; Lucy Pargeter, kicked out of Emmerdale on her arse cunt; Alfonso Ribiero, unknown American actor cunt looking for a job; Vincent Simone, poncy dancing cunt; Amy Willerton, a cunt with big tits; Mathew Wright, daytime chat show cunt.
All a bunch of cunts trying to revitalise their flagging careers by making cunts of themselves by undergoing purile self inflicted humiliation in a cheap, crappy TV show.
Cunts in the jungle with Ant and Dec – two more cunts.
Who the fuck watches this shit anyway? They've gotta be brain dead or high as a kite to settle down to this shite every night and believe it's entertainment! We've got to be the biggest cunts for watching it in the first place!
Nominated by: Dioclese