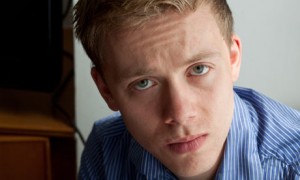 Owen Jones- 28 year old author of 'Chavs: The Demonisation of the Working Class', and frequent poster boy of the Left on any BBC program they can squeeze him onto, is a self- confessed '…fourth generation socialist' cunt, son to Trotskyist cunt parents who met as members of Militant cunting Tendency, former trade union lobbying cunt and researcher for the Labour cunting Party.
Despite being born in 1984, the cunt was clear this week that the Falkland Islands war (1982) and The Hillsborough disaster (1989) were all the fault of Margaret Thatcher's time as PM (1979- 1990).
Strangely, the cunt now lives in London, and not on a council sink estate where he grew up in either Stockport or Sheffield, where the metrosexual, liberal and tolerant residents have been entirely misrepresented, by evil right wing cunts and the meejah, obviously.
Nominated by : King Penguin Cnut