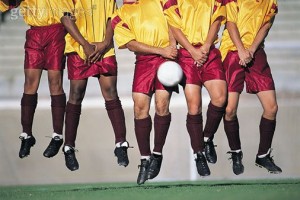 Footballers? Footballers! Don't start me on that bunch of useless, overpaid prima donna cunts who get paid obscene amounts of dosh to sit on a fucking bench for a million quid a month and occasionally get up and kick a bit of fucking pig skin around a bit of grass in front of a load of brain dead fucking cunts with more money than sense at those prices!!
And the fucking pig skin is fake plastic these days because we don't want the poor little delicate darlings to hurt themselves by kicking a real fucking football, do we?
Apparently, Man U – whoever they are – got knocked out of a competition the other week by some bunch of foreign cunts who just happened to kick the ball better then they did.
Big fucking deal! Who fucking cares! No cunt of any importance that's for sure! I'm glad they lost. Fuck 'em! Get over it…..
Nominated by : Dioclese